Searing Tyranny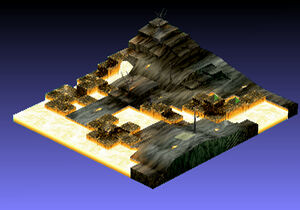 Disgaea: Hour of Darkness map
Searing Tyranny is the fourth stage in Episode 10: Angels, Demons, and Humans in Disgaea: Hour of Darkness, and in Episode 3: Chronicles of Etnarnia in the remakes' Etna Mode.
The party is still chasing the stolen picnic basket, even using Thursday's olfactory scanning device. They compliment Thursday on being very handy, and it is revealed that Jennifer actually build the robot when she was five, being a child prodigy.
Etna Mode Story
Edit
Justice Flonne wants a rematch. Maderas has figured out Etna's ruse. After the battle Etna continues her search. Flonne retreats and gets another visit from 'God' who provides her with a secret item that will aide her in her quest.
Enemy Information
Edit
| Enemy | Level/Number | Equipped Items |
| --- | --- | --- |
| Treant | Level 35 x12 | - |
| Exp +50% | Level 35 x2 | - |
Community content is available under
CC-BY-SA
unless otherwise noted.