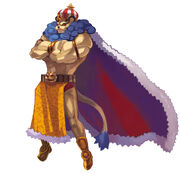 King Drake the Third is a Lion Overlord who appeared in Makai Kingdom . He considers himself to be just and fair, as well as the most charismatic Overlord. However, all the other Overlords consider him a moron. He also often attempts to do dirty tactics such as taking advantage of his opponents while they sleep. In Makai Kingdom he used weapons like Mallets and, for some strange reason, Pies.
Though he makes no direct appearance he is apparently used as an Ingredient for Hanako's summoning of Pram. Pram blames his use as such on her loss before joining the party.
King Drake the Third appears in the Japanese version of Disgaea 3 as DLC, and can also be used if the player is using the "PS3 The Best" version of the game. While not a playable character, King Drake is instead a Bonus Teacher character for Homeroom. He is currently available in the North American version as well in the "Complete DLC" pack. He is also in the Vita version by default.
Community content is available under
CC-BY-SA
unless otherwise noted.