Disgaea 6: Defiance of Destiny (魔界戦記ディスガイア6, Makai Senki Disugaia Roku, literally: Netherworld Battle Chronicle Disgaea Six) is an upcoming game in the Disgaea series. It is stated for release exclusively on the Nintendo Switch for Summer 2021 in western regions, but it will be released in Japan on both the Nintendo Switch and PlayStation 4 on January 28, 2021. It is the sixth title in the main series and features full 3D models for all characters in the game, a first for the series.
The main plot of the game revolves around Zed and his sister Bieko, as they embark on a journey across Netherworlds to face an imminent threat posed by the God of Destruction.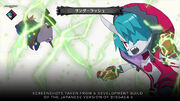 Zed: The main protagonist of the game. A boastful zombie who possesses a special power called Super Reincarnation. When he and his sister Bieko are threatened by a God of Destruction, he must rise to the challenge by using his Super Reincarnation and allies gathered along his journey to stand up to this threat.
Bieko: Zed's sister who accompanies him on his journey to face the God of Destruction.
Overlord Ivar: An unknown overlord who appears to be part of the main cast based on the boxart. His current role in the story is unknown.
Cerberus: A zombie dog with genius level intellect. His current role in the story is unknown.
God of Destruction: The God of Destruction who threatens Zed and Bieko. He appears to be the main antagonist of the game. He is simply named "God of Destruction" and it is currently unknown if he has a real name or any relation to previous Gods of Destruction that have appeared in the series.
Majorene: A character who has been revealed on the Japanese website, please further investigate
Susendere: A character who has been revealed on the Japanese website, please further investigate
Melody: A character who has not been officially revealed, however her name has been revealed along with her silhouette on the japanese preorder page.
Piyori: A character who has not been officially revealed, however her name has been revealed along with her silhouette on the japanese preorder page. looks to be somehow related to the prism rangers.
Other characters include Laharl, Etna, and Flonne who make a return in this game.
Generic Classes that are confirmed to return based on pre-release footage include: Warrior, Mage, Thief, Archer, Gunner, Magic Knight, Ninja, Prinny, Succubus, Dragon, and Horseman. Other confirmed returning classes based on other pre-release materials include: Martial Artist, Clergy, Samurai, Armor Knight, Zombie, Sea Angel, and Mothman. Lucky Boards from Disgaea 5 also seem to make a return.
New Generic classes include some sort of new crab monster, and this unidentified class
From pre-release footage, Disgaea 6 appears to build on the base gameplay mechanics of its direct predecessor, Disgaea 5: Alliance of Vengeance. The major changes in Disgaea 6 so far include full 3D models for all characters in-game, making the entire game be fully rendered in 3D. The level cap has been raised to 99,999,999, and stat caps appear to exceed 10 quadrillion for HP/SP, and 100 billion for all other stats. Potential damage can now exceed 1 quadrillion with these raised stat maximums in mind.
The base gameplay of Disgaea 6 appears to follow the same formula that Disgaea 5 has used so far. Returning mechanics appear to include Weapon Mastery, specific Weapon resistances along with Star resistance, Evilities, Squads, dispatch groups, and Reincarnation. A variant of Reincarnation called Super Reincarnation is also slated to appear, but its differences from standard Reincarnation are not yet known. According to pre-release information from the official English website, Super Reincarnation appears to some sort of revival/retry mechanic for battles. The general UI of the game uses the same format as Disgaea 5 with visual improvements. Based on pre-release footage, mechanics from Disgaea 5 such as Sub-Weapons, Subclasses, etc., do not seem to appear or are unconfirmed. Other unconfirmed mechanics that will likely return so far include the traditional Item World and Dark Assembly.
The game will also feature options such as Auto, Retry, and Replay to appeal to casual and hardcore players.
The game was discussed in a 20 September 2018 interview with Sohei Niikawa, the president of NIS:
"Yes, there's definitely a wish to revisit that cast and maybe other casts. Disgaea is a series that we're constantly thinking of what to do with it. And right now, while all eyes are probably on or looking forward to Disgaea 6, there's still a lot of other things that we're still planning and thinking about in the Disgaea series that maybe we'll be announcing in the future. At least please know that it's being thought about"
"There's a lot of talk of PlayStation 5 right now, and I personally don't know when it's going to come out, but I know as a company we definitely want to be on there very early – one of the first companies to put something out on it. This goes back to earlier in the conversation, but again, just going forward [our goal is] making Disgaea 6 up to the level that everyone is expecting."
Sohei indicated he would bring back the original cast of Hour of Darkness who had been revisited in Brighter Darkness. Based on the reveal trailer, Laharl, Etna, and Flonne do reappear in the game but it is unknown whether they will play a role in the main story or not or simply be relegated to post-game cameos.
After years of speculation, the game was officially announced on the Nintendo Direct Mini: Partner Showcase, which aired live on September 17th, 2020. Unlike previous games which primarily released on the PlayStation family of consoles first, Disgaea 6 will not be released for any PlayStation console in the west so far and will release exclusively on Nintendo Switch. Disgaea 6 will still be released on the PlayStation 4 in Japan however. It is unknown whether there will be plans to release the game on other platforms in the West so far. The game was revealed to use full 3D models for its characters, rather than HD sprites as seen with recent entries. The reasons for this change are unknown, but are likely due to the easier and quicker development of creating and animating 3D models rather than manually drawing every frame of an HD sprite.
As mentioned above, this is the first entry in the Disgaea main series to use 3D models for its characters. However, previous Nippon Ichi Software games have featured animated 3D character models such as The Witch and the Hundred Knight and Prinny 2: Dawn of Operation Panties, Dood!
Disgaea 6 features the highest level, stat, and damage caps in the series, far surpassing previous games such as Disgaea D2 and Disgaea 5.
The release year gap between Disgaea 6 and its predecessor, Disgaea 5, is the longest in the main series, being around 6 years (from 2015 to 2021).
Disgaea 6 is the first Disgaea that will not be released on a PlayStation console, at least in the West. It is also the first new mainline Disgaea game to release on a Nintendo Platform at launch.
Official English Announcement Trailer
Official Japanese Announcement Trailer
Disgaea 6 Official English Site
Disgaea 6 Official Japanese Site
Community content is available under
CC-BY-SA
unless otherwise noted.