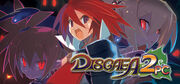 Disgaea 2 PC is the port of Disgaea 2: Dark Hero Days for PC platforms. It is the second PC port, after February 2016's Disgaea PC. The game was released on 30 January 2017.[1]
This version includes all DLC content from Disgaea 2: Dark Hero Days as part of the base game, including the characters Miabel, Dark Eclair, and Gig, who were unavailable in some regions in the PSP game due to glitches when the characters were obtained and used in game.
Opening Movie
[
]
Controls
[
]
these are explained in "Control Info" in the menu.
Base Controls
[
]
The direction pad is emulated with WASD keys though users can also click the mouse to travel to a clicked location.
A and D also do previous/next in options
Left mouse clicks can also be done to select options rather than needing to go up/down on lists.
L and R (rotating the map) are done with the Q and E keys.
The I/i key opens the menu, though this can also be done by clicking the right mouse button.
Jumping is done with the L key.
"J+Q" is listed for expanding/minimizing the map, but actually the way it works is first J must be held down and then Q is pressed
for mouses that have a mouse wheel it's much simpler to roll it up to zoom in and roll it down to zoom out
Battle Controls
[
]
TBA
Other Controls
[
]
The I key skips demos.
References
[
]
See also
[
]